Wedding Stationery, Everything You Need To Know.
What Will I Need? – How Much Will It Cost? – When Do I Send It?
Congratulations – you've popped the question, booked your venue and now it's time to invite your guests! The little details are often the things your guests remember the most – your invite being the first thing your guests will see, and your opportunity to communicate the style and vibe of your wedding. But there are lots of other options you can take with your wedding stationery, some more obvious than others.
So we have made it easy for you, by getting the inside scoop on the what, when and how much? From independent wedding stationers, Love Invited, who have worked with lots of lovely couples, all with different wedding stationery budgets. For them, there is no 'one size fits all approach' and a lower budget should not mean having to cut the quality. Above all, Love Invited work with you to help you stay within your budget whilst giving you wedding stationery, which you will love.
Owner and designer, Amanda Williams, explains everything you need to know about your wedding stationery, to help you stay within your budget and on schedule.
Love Invited also have an exclusive offer for Boho Weddings, of their new Dreamcatcher Collection (IMAGE BELOW) with 10% off all orders placed by the end of August! Simply click here to email Amanda for a quote
SAVE THE DATES
Budget £500+ If you have your venue and date confirmed, there is no harm in sending out your Save The Dates straight away to give your guests as much notice as possible, and to make sure that everyone you want to be there can be. Some recommend only 6-8 months in advance, but from our experience we find that sending them out a little earlier, if you can, is a better option.
Budget under £500 – a question we get asked a lot is whether or not we recommend sending save the dates before your wedding invitations. We would advise that if you have all the details of your wedding, and the date is within a year, then you could consider sending your wedding invitations out straight away, and skipping on the cost of save the dates.
INVITES – BESPOKE VS COLLECTION
Budget £500+ – If you have a specific idea in mind for your wedding stationery, then our Bespoke service will be your best option. Here we can create something completely unique to you. If your budget permits then this is a wonderful way to get extra creative! Bespoke invites will take a little longer to create, so we would advise allowing six weeks from order to delivery.
Budget under £500 – we have lots of beautiful designs in our collection, from our new bohemian dreamcatcher range, to beautiful botanicals, whimsical watercolour, and stylish geometric foil prints. So if you find a design you love, but think a few changes would make it perfect, then we offer free colour and wording customisation on our entire ready to buy collection. Collection invites will take four weeks from order to delivery.
We advise sending invites out 6-8 months before the wedding. However, if you have sent out Save The Dates, you can hold off a little longer and send them around 3 months before the wedding.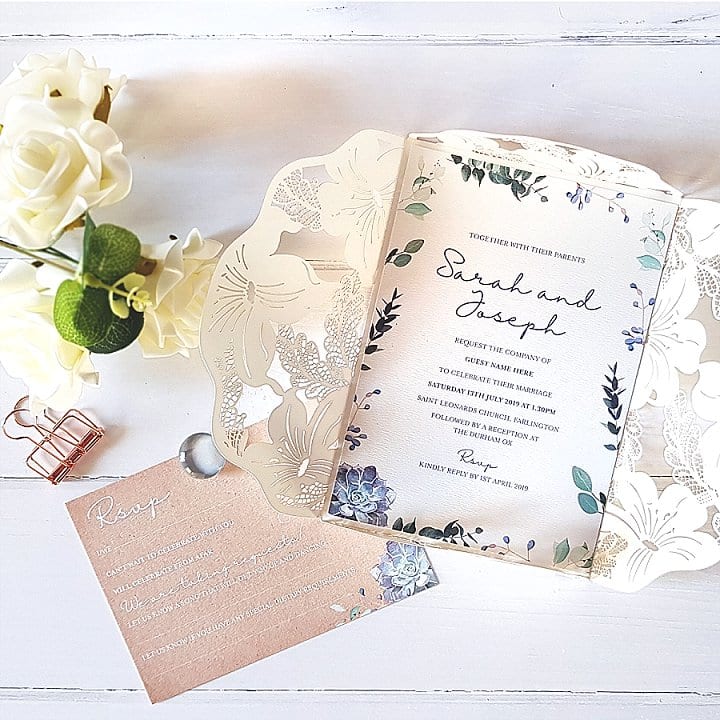 PERSONALISATION
Budget £500+ – when ordering your wedding invitations we will give you the option to add extra details such as guest personalisation (guest names) printed individually on each invite. This can be done within the normal time frame (four weeks).
Budget under £500 – if you don't mind if your guest's names are printed on the invitations, you can leave them generic, or we can leave a space on the design for you to handwrite them yourselves. This will of course take a bit of your own time, if you opt for hand writing names, but will save your budget!
FOIL
Budget £500+ – foil detail will make your invites and on the day stationery pop and looks amazing on every design. If your budget will stretch, then this is the best way to get your guests attention and create stunning pieces.
Budget under £500 – if you love the look of foil detailing, but have a smaller budget, then we would suggest an alternative like pearlescent card.  This will give your invites and stationery a natural shimmer and that extra special touch, but without the additional price tag. Of course you can always mix and match too, and add foil to certain stationery, but not all.
TAGS & TWINE
Budget £500+ – the addition of tags, twine or ribbon for your invites is a lovely idea, especially if you have additional information and RSVP cards to attach to the invite.
Budget under £500 – we would suggest you save these little details for your daytime invitations, and keep your evening invitations (and cost) to a minimum by leaving them off.
RSVP CARDS
Budget £500+ – sending RSVP cards with your invitations are great if you are having a more formal and traditional wedding.
Budget under £500 – if sending an RSVP card isn't your style, we can add additional wording on the back of your wedding invites explaining how to RSVP. For example, ' Please RSVP to daveandamanda@wedding.com'.
ON THE DAY STATIONERY
Getting your on the day stationery ready will typically depend on your RSVPs. We advise setting your RSVP date a minimum of 8 weeks before the wedding so that you have 8 weeks to get everything ready. This includes;
Order of service | Order of the day | Table Plan | Table Numbers | Place Cards | Menus
At Love Invited we only need a maximum of 4 weeks to get everything ready for you, but there is no harm in starting earlier!
Another thing to consider is whether your wedding falls within school holidays or at Christmas. If it does, you may want to give your guests (and the postman) a little bit more of a heads up so everyone can plan in advance.
EXTRA BUDGET TIP
It is important to remember, you most probably do not need one invitation per person. For example, you may send one invitation to a family of four living in the same house and similarly, you may send one invitation to each couple.
This rule also applies to your on the day stationery. For example, it may be worth considering having one Order of Service per couple, instead of one per person.
Packages for every budget
The below costs are based on 100-day guests, plus extra evening guests, to give you an idea of what different budgets will look like. This will be different for each couple, so please only use this as a guide. No matter how big or small your budget, Love Invited will work with you to create wedding stationery perfect for your special day.
BUDGET: £500
75 x A6 Double sided Invitations without guest names: £146.25
50 x A6 Double sided Order of The Day: £97.50
100 Place Cards with guest names: £130
10 Table numbers or names: £15
10 Table menus: £15
A3 Printed Table Plan: £45
Total = £448.75
BUDGET £750
50 A6 Save The Dates: £97.50
50 5×7″ double sided daytime invitations with guest names: £147.50
50 RSVP Cards: £75
25 A6 double sided evening invitations without guest names: £48.75
50 A6 4 page folded order of service: £125
100 place cards with guest names: £130
10 table numbers or names: £15
10 table menus: £15
20×30" double mounted or printed board table plan: £89
Total= £742.75
BUDGET £1,000+
50 A7 save the dates with magnet & foil: £125.00
50 A6 8 page passport style invitations with foil & tear off RSVP: £272.50
25 Boarding pass Invitations with foil: £98.75
50 A5 double-sided order of the day with Foil: £175
100 place cards with guest names and foil: £180
10 table numbers with foil: £25
10 table Menus with foil: £25
20×30″ mounted table plan with frame and foil: £189
Total= £1090.25
We hope the above guide has helped you with budgeting for your wedding stationery. Please feel free to get in touch with Amanda at Love Invited if you have any more questions, she will be happy to help you!
for more information on Love Invited go to
www.loveinvited.co.uk / FACEBOOK / INSTAGRAM / PINTEREST / TWITTER 
The post Ask The Experts: Wedding Stationery, Everything You Need To Know. What Will I Need? – How Much Will It Cost? – When Do I Send It? appeared first on Boho Weddings For the Boho Luxe Bride.